This is the second in a series reviewing all the amazing people and businesses that made our wedding happen. The businesses below contributed the most work to the ceremony and reception. The order is alphabetical.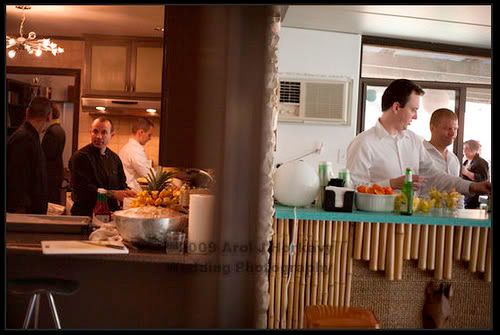 Arol J. Horkovy Photography
:
A+
Booking Arol was one of the first decisions we made in the planning process, and we haven't regretted it. He has been nothing but nice, communicative, and professional. He did a great job with our engagement photos, which is no mean feat considering I was wacked out on painkillers that day due to sinus troubles. He and his assistant did an amazing job with our
wedding photos
, and we got a lot of fantastic work out of them for a bargain price.
Austin Outhouse
:
B+
Our preliminary dealings with Austin Outhouse went smoothly, but the day-of delivery was rough. They were almost 12 hours behind in delivering the outhouse, so that we were all at the rehearsal dinner by the time it arrived. Fortunately, they put it on the correct side of the house, and it ended up being an necessity for the reception. We're glad we made the decision to get one and that Austin Outhouse offers green toilets, which helped us keep our wedding environmentally-friendly.
Austin Party Central
:
A
APC had excellent customer service. They easily answered our questions and even offered us extra ways to save money, including working closely with our caterer. They have a wide selection of products and a very informative and user-friendly website. We had no problems with their delivery service.
Clean Air Limos
:
A
We were thrilled to learn Austin has such a service, which fit in with our eco wedding theme. The driver showed up well before the expected time and provided excellent service. When our limo didn't have the sparkling water we had requested, he voluntarily stopped and bought some for us. He also took us on the scenic route to our hotel downtown, which extended the moment when Justin and I got to relax together after all the chaos.
Coco Paloma Desserts
:
A+
Paloma not only made us a
beautiful cake
, she did so with organic and local ingredients, in keeping with our green wedding. The rosemary used came from her own garden! She also worked out a great deal with Justin's generous uncle and aunt, who covered the cost of the cake.
Junior's Wine & Beer
:
A
Junior's was a great resource for the 2 kegs we had at our reception. It's just a shame we couldn't send them back empty. :/
Pink Avocado Catering
:
A++++++++++++++++++++++++++++++++
We cannot sing the praises of PAC enough! They gave us a great deal, created amazing dishes, and provided phenomenal service. One of Justin's big goals for the wedding was to have memorable wedding food, and PAC went above and beyond that goal. We got more compliments on the food than anything else, and we're still always wishing we had some of our wedding buffet. Brent and his staff took great direction and were quick to help with anything. We got great feedback on their eagerness and friendliness, as well, and cannot recommend them enough.
Rabbi Monty Eliasov
:
A
We found Rabbi Monty simply through an online search, which can always be iffy, but he turned out to be an excellent pick for leading our ceremony. He was very informative and communicative, sending us emails with details about Jewish wedding traditions and resources. He met with us repeatedly to make sure we understood everything and that we were happy with it. The ceremony he wrote for us was incredibly beautiful, moving, simple, and sweet. It fit our personalities and wedding day perfectly. The only thing we received more praise on was the food!
Rock N Roll Rentals
:
A-
All of our sound equipment came from Rock n Roll Rentals, and their staff was very helpful in explaining which products we would need. The only snafu came with a miscommunication during returns, but it was quickly sorted out with a phone call from Justin.
-- Sarah