This is the third in a series reviewing all the amazing people and businesses that made our wedding happen. The businesses below contributed to our wardrobe and stylish good looks. The order is alphabetical. No rankings, solid As for everyone.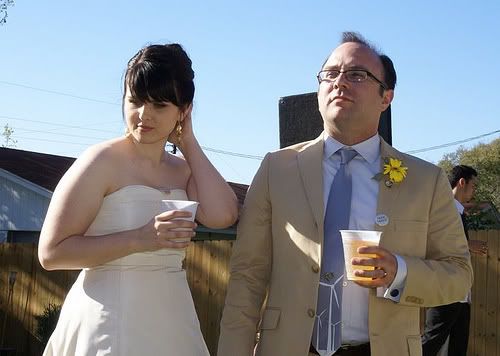 Ace Custom Tailors
Where I had both my dresses altered.
American Apparel
Source for Justin's undergarmets and
the dogs' collars and leashes.
Banana Republic
Source for Justin's shirt and socks.
Converse
Source for Justin, Dan, and Jack's
custom Chucks
. Thanks to everyone who wore a pair to the wedding!
Cyberoptix Tie Lab
Eco-friendly source for Justin, Jesse, and Dan's cool
wind turbine ties
.
Ebay
Source for a lot of accessories (seen
here
), plus part of Justin's suit and my reception dress. Most importantly, we found my lovely dress here at a bargain price. Much thanks to Ana, the Queen of Ebay.
Eco Clean
Where Justin's suit and my dress were pressed.
Embellish Nails and Boutique
Source for our great manis and pedis, plus a relaxing facial for me. (Check them out - they gave me the best manicure I've ever had. It lasted all through Italy.)
The Gap
and
Old Navy
Original source for my reception dress, plus various odds and ends.
J.Crew
Original source for my wedding dress and Justin's suit.
Jose Luis Salon
:
A+
I lied when I said no ranking because I was beyond thrilled with the amazing and hard work that Blaine and Theresa respectively put into my fantastic hair and make-up. They deserve extra special thanks for their artistry and sweetness. The entire Jose Luis staff was very friendly, and I plain to make it my regular salon. I also have to give thanks to Justin's generous uncle and aunt who covered my hair costs.
Keyka Lou
Source for my adorable blue clutch (seen
here
).
Kruger's Diamond Jewelers
:
A+
Extra rankings for Kruger's, as well. David Kruger took the time to help me custom design my engagement ring (seen
here
), and he treated us with the utmost respect and friendliness. The entire staff was helpful and went out of their way to allow Justin to pick up my ring after hours as a surprise to me. We also purchased Justin's amazing tungsten carbide band from them. Highly recommended.
Plonka by Dalinda
Source for the also adorable clutch I got Palmer.
Roosters Men's Grooming
Where Justin and his boys went for their shaves and haircuts the morning of.
Urban Outfitters
Source for my lovely gray heels.
Groomingdale's of Austin
Source for our dogs' stylish looks. Bonus points for them for understanding JRTs.
-- Sarah